With Conserv Cloud, you can bring in data from your other types of monitoring devices! Here are a few things to note when importing.
As of November 2020, we've completely redesigned and updated this process to make it more user-friendly and streamlined. This article contains the updated instructions for the new process.
If you have data from your non-Conserv devices, you can use the import feature to bring that data into Conserv Cloud! Just click the icon in the lower left navigation that looks like a cloud, and it'll take you to the Import page. Or, you can navigate to http://app.conserv.io/import/start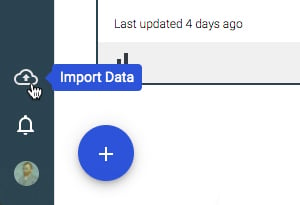 To import a new file:
Once you're on the import page, click the blue button in the lower left corner labeled "Import Data." This will bring up the importing menu. Follow the next steps to complete your import:
Choose the type of file you're importing:

Choose the file(s) you'd like to upload:
**If you're uploading multiple files, be sure that your formatting is cohesive across all of the files, otherwise the import will not proceed!**
Map your fields by dragging the Conserv fields on the left to match the fields from your file on the right. The platform will automatically try to map these fields, but you can change them as needed if incorrect:


Complete your import by a) creating a new sensor and moving it into a space, b) merging the data with an existing sensor, or c) just creating a new sensor (Do nothing)

Once you've hit "Finish," your imported data will be located where you've assigned it! If you've created a new sensor and moved it to a space, that sensor will now appear in your sensor cards and lists in that particular space. If you've merged the data with an existing sensor, that data can now be accessed within analytics. If you did not attach the data to anything, it will appear as its own sensor card in the category "Unassigned Sensors."
If you're having trouble with importing, here are a few tips that may help:
1. Disable pop up blockers or whitelist the Conserv.io domain
We've seen a few instances now of customers attempting to upload a data file to Conserv, only to find that the upload fails, or that the Conserv application complains about a bad file when the upload is something simple like a CSV file. In some cases, ad blocker or popup blockers have been the root cause of this behavior. Handling specific ad or popup blocker products is beyond the scope of this article. Please consult the instructions for your browser or security products for specific details on how to whitelist Conserv.io.
2. Check the file size
Conserv has a limit of 50mb for data import files. Depending on the specific file format, this can be millions of readings and should be enough for most use cases. If you are trying to import more data than that, you can split the file into multiple parts. If that doesn't work for you, contact Conserv support and we'll help you!
3. The mappings are completely wrong!
This can happen if the file being uploaded isn't something we can parse. Unusual delimiters, multi-line rows and other errata can definitely cause issues. The easiest way to ensure success is to move the data into the template that Conserv provides. If that process is giving you trouble, please contact Conserv support and we'll happily lend a hand.