KPIs turn complex data into easy to understand metrics that help you discuss environmental performance with your team.
Conserv cloud is a free, cloud-based environmental monitoring tool. You can create an account at https://app.conserv.io.
The Challenge
It's incredibly common across all industries for people to share data that isn't very useful.
For example in environmental monitoring for collections, people often share a temperature and relative humidity graph that looks something like this.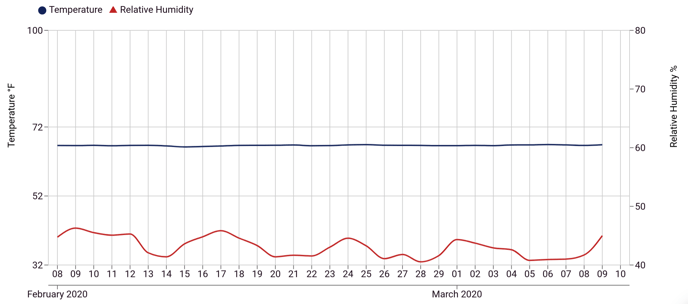 Let's get real honest. This graph by itself isn't very useful for most team members and has a high likelihood of ending up in a drawer without being looked at.
Someone with a lot of experience in environmental monitoring may be able to form a good opinion about the collection environment from these squiggly lines. For everyone else this graph doesn't answer the fundamental question, "How are we doing relative to our goals?"
If a graph can help answer this basic question it's a lot more likely someone's going to look at it.
One personal goal in sharing reports is to make sure people get value from them - otherwise they're getting deleted or going into a drawer somewhere.
KPIs are Key Performance Indicators. KPIs turn complex data into digestible information that can be used to answer the simple question, "How are we doing?"
Collection Goals
To be able to answer the question "How are we doing?" you have to start with a clear sense of what good looks like. For example if I tell you the temperature in a space is 76°F - is that good, bad, neutral?
The overarching goal of collections care is to prevent damage to objects. In the Conserv application, goals are expressed in terms of environmental levels for your different collection spaces.
Your collection can use the environmental levels feature to set very clear goals for each of the spaces in your collection. Goals are related to ranges and fluctuations.
Range is your target high, low, and average. As an example, you might aim for temperature to be in a range between 65 and 75°F with an average reading of 70°F.
Fluctuation is your target variation, or wiggliness. As an example, you might aim for the temperature to not fluctuate more than ±5°F during a 24 hour period.
If you're not sure where to start on setting levels for your collection, someone from the Conserv team is happy to help.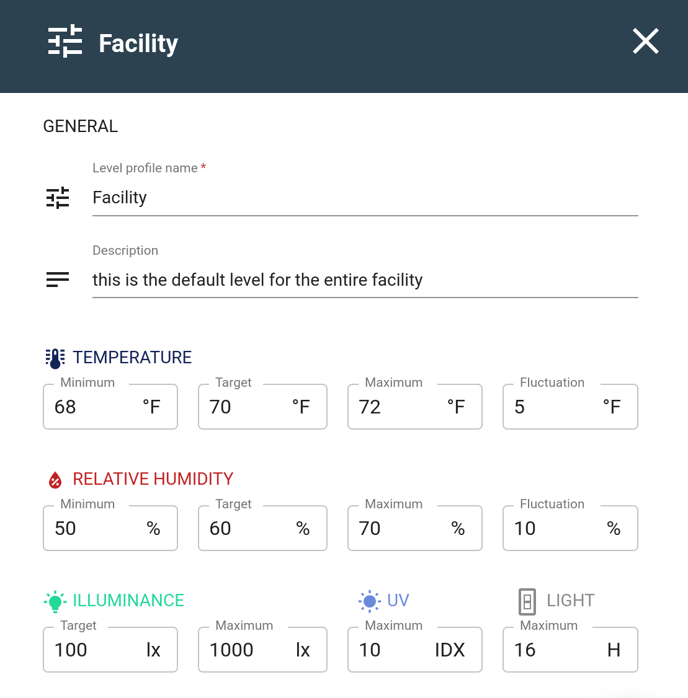 Preservation KPIs
Finally, we get to the preservation KPIs! Each of these KPIs will have its own article eventually - for now here are the high level descriptions.
% of Time in Range, % of Time under Fluctuation
We provide these metrics based on the levels set for temperature, relative humidity, illuminance, and "lights on". We simply count how many readings are good and divide that by the total number of readings across the period. This number is a great way to "gamify" the environment with your facilities team.
📖 Read more in depth about the range and fluctuation KPIs here
Conserv Score
The Conserv Score, loosely based on guidance from the Canadian Conservation Institute, combines temperature and relative humidity fluctuation numbers into an ABCDE score. A is best, E is worst.
📖 Read more in depth about the Conserv Score here.
Mold Risk Score
Mold grows under specific temperature and relative humidity conditions. The Conserv mold risk score, loosely based on the logic used by the Image Permanence Institute, recognizes these conditions over a period of time and indicates the likelihood that you have mold growing.
📖 Read more in depth about mold risk KPIs here
Relative Damage KPI
Specific temperature and relative humidity conditions cause damage to collection objects. The Conserv relative damage score compares the actual damage rate (based on actual readings) to the ideal damage rate (based on the levels you set). Damage rates are loosely based on the logic used by the Image Permanence Institute.
The relative damage score is expressed as a multiple of 1. For example a score of 1.15 means damage occurs 15% faster than expected; a score of 0.50 means damage occurs 50% slower than expected. Credit for this approach goes to Tim Padfield.
📖 Read more in depth about the relative damage rate KPI here.
Other calculations
We see a lot of collections using Excel to create additional calculations based on underlying readings. We want to make as many of these available in the application as we can.
For starters we've included a lux hours calculation in the Preservation KPI dashboard. Reach out if there are other important calculations that you need for your collection.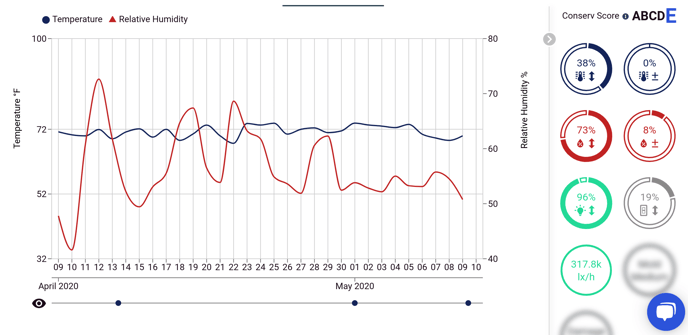 What's next
Collections professionals can now follow the mantra of "these are my numbers I want them to go up." With preservation KPIs you can get your team aligned on "how are we doing?" and begin to lead the conversation on what needs to be done to improve the KPIs for your collection.
The primary purpose of good metrics is not just to answer questions; Good metrics also help your organization ask better questions to address the root cause of problems.