Conserv has no limits on users! Here's what you need to do to invite your team to Conserv.
We encourage you to invite everyone on your team to the Conserv platform. Creating better collection environments is a collaborative activity between collections, facilities, administration, and volunteers. That's why we've decided to give you unlimited users, even on the free account.
To invite users, you first need to navigate to the settings menu. Click your user icon located in the top right corner of the page, then select "INVITE MY TEAM."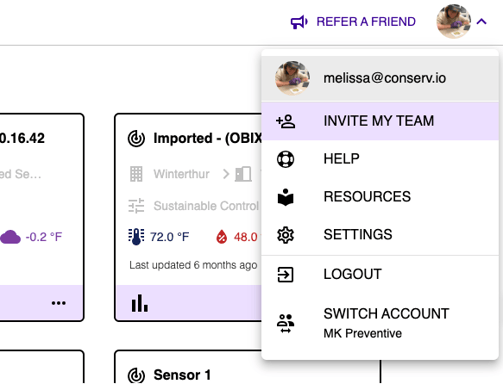 This will bring you to a "Team" menu where you add new users and edit or delete existing users. At the top right, you'll see a button that says, "Invite Members." Click that button, enter the email address of the person you'd like to invite.

Once you send out an invite you can keep track of pending invitations and resend invitations if necessary. Let your teammates know that the invitation will be coming from team@conserv.io and to check their spam fold just in case!