There are some good practice steps you can take to help you keep your data organized.
Good news: it's very easy to move your sensors as they will still connect to the gateway (so long as they're in range).
However, you may be wondering what to do about the data once you move the sensors. The data is only relevant to a specific space but when you view the data for the sensor it shows you all of the historic data. There are some steps you can take to keep this data clean and separate.
1. Download the data from the sensor for the dates that it's in a certain location (past data). You can do this by going to the analytics view, selecting the dates the sensor was in the location, making sure the data is "non aggregated" and then download a CSV. (see image below)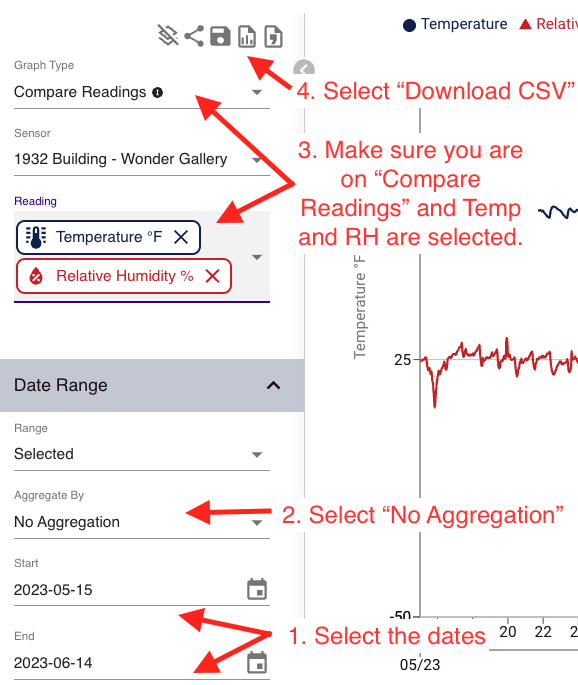 2. Once the dataset is downloaded, you can re-import it into Conserv and assign it to that sensor's original space and location. Here is a video that walks you through that.
3. Move the sensor into the new location.
4. Once it's moved into the new location you can drag the sensor into its new location in the hierarchy view on the sensor tab. This creates a "note" in the metadata that the sensor was moved.
5. Make an "observation" on that sensor for the time that you moved it to "ignore data before this date" so that you have an internal record for when you moved the sensor.
NOTE: Unfortunately there is not a way to remove past data from a live sensor but you can separate out old data (as this article describes). The reason we suggest that you "move" the sensor into a new location when the sensor is roughly physically moved is because it will create a record for us to potentially reference in the future. We have considered the possibility of querying data from a space instead of a sensor, so that you would only see data for the time that the sensor was in a specific space. If this feature appeals to you please let us know by emailing support@conserv.io and explaining why!