Specifications for Conserv's SCS-3 Sensor
Conserv's SCS-3 Smart Collection Sensor is designed specifically for collection care use cases. It measures temperature, humidity, visible and UV light levels, and movement.
⚠️ Note: this article is for the SCS-3 sensor. The sensor's version can be identified by the label on the back of your sensor. For the technical specifications for SCS-1, click here. ⚠️
Safe handling instructions

As Conserv manages your subscription and your data is automatically transmitted to the Conserv platform, you should not need to interact with your sensor after initial setup.
In rare instances, you may need to replace the batteries in the device. In these instances, only use batteries provided by Conserv. Make sure to follow the symbols marked on the enclosure to properly insert the batteries in the correct orientation.
After three years, Conserv will replace your sensors as part of your subscription. We will ask you to return your old sensors to us so we can refurbish them or dispose of them safely.
Physical Specifications


| | |
| --- | --- |
| Size | 3" W x 3" L x 1" H |
| Mounting | Mounts with magnets or command strips |
| Notes | Vertical mounting is recommended to minimize dust accumulation on sensing elements |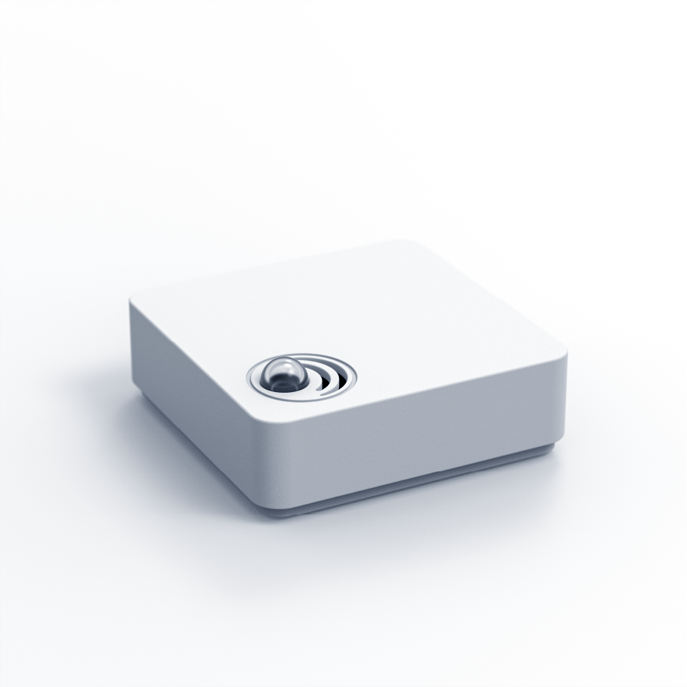 Primary Temperature Sensor Specifications


Temperature Range
Operating: –40°C to 85°C
Functional: –40°C to 125°C
Temperature Accuracy
±0.1°C (typical), ±0.3°C (maximum)
Repeatability
±0.04°C
Response Time
2 sec
Relative Humidity Specifications


| | |
| --- | --- |
| RH Range | 0% to 100% (non-condensing) |
| RH Accuracy | ±1% (typical), ±2% (maximum) |
| RH Repeatability | ±0.08% |
| Hysteresis | ±0.8% |
| Response Time | 4 sec |
| Long Term Drift | less than ±0.2% / Year |
Visible Light Specifications


| | |
| --- | --- |
| Resolution | < 100 mlx |
| Maximum Dynamic Range | 64 klx |
UV Specifications


| | |
| --- | --- |
| Peak Sensitivity Frequency | 355nm |
| Sensitivity Range | 320nm - 410nm |
| Sensitivity | 5 μW/cm2/ |
| Maximum Detectable | 328 mW/cm2 |
Movement Specifications


| | |
| --- | --- |
| Measurement Type | Threshold based alerting |
| Axis | 3 axis (X,Y,Z) |
| Bias Calibration | Automatic on startup |
Network Specifications


| | |
| --- | --- |
| Network Type | LoRaWAN 1.0.2 |
| Encryption | AES128 |
| Maximum Output Power | 28mW |
| Operating Frequency | US ISM 915mhz |
| Operating voltage | 7.2v |
Battery Specifications


| | |
| --- | --- |
| Battery type | LiSOC2 Lithium, AA size |
| Typical Battery Life | 36-48 months |
| Battery voltage | 7.2v |
| Average sleep power consumption | 10uA |
| Configuration mode power consumption | 8mA |
| Average transmission power consumption | 2.5mA |