Conserv pricing is different from other data loggers - here's how it works.
Conserv offers two products.
Conserv Cloud. A stand-alone environmental analysis and Integrated Pest Management software solution. There's a free version and a paid version.
Counserv Monitoring. A subscription-based data logger solution that includes wireless sensors, access to Conserv Cloud, and premium support. The pricing is $220 per sensor per year.
Conserv Cloud, Free and Paid Software
💳 Conserv Free is free. Conserv Essentials is currently priced at $50/month or $516/year if you sign-up for an annual subscription.
Our Conserv Cloud software platform is free for users with their own data loggers - we call it BYOD (bring your own data).
For collections with HOBOs, PEM2s, or other loggers that want a better experience analyzing environmental conditions, Conserv Cloud is a great option.
The software also includes Integrated Pest Management Tools as part of the free offering.
The free gives you unlimited users, unlimited loggers, and unlimited data.
Our paid software, Conserv Essentials, is targeted at collections who need to regularly import lots of logger files or how who want more control over their IPM pest lists.
Conserv Monitoring, End-to-End Wireless Data Logger
💳 Our pricing model is different for a reason - read more below. Conserv monitoring is currently priced at $220 per sensor per year on a 3-year contract. There's a one-time cost per gateway of $250.
Most data loggers are sold for a one-time cost, and while this seems sensible it causes a number of problems for collections professionals.
Customer Support
The first problem is customer support. When a vendor sells a low-cost data logger for a one-time cost they now have to go find the next person to sell a logger to, and they're not very incentivized to support you.
Collections consistently report that the number one complaint about their data loggers isn't the technology - it's the vendor's responsiveness.
We have a team of conservators that work closely with our clients. We ask for feedback regularly and offer consultation on how to get great results from the tools.
Recalibration Included
The second problem is recalibration. With most vendors you're on your own figuring out when to do calibration and how to pay for it - unfortunately many loggers that have reached the end of their life go into the trash.
As part of your subscription Conserv will send you new sensors every three years. Your old sensors will be recycled and refurbished and will go back out into the field. Any new hardware upgrades we've made will be passed along to you in your new sensors.
This solves three problems. It's more sustainable. You never have to think about recalibration. You automatically get the most up-to-date equipment every three years.
Continuous Updates based on Preservation Feedback
Most environmental monitoring vendors update their software annually and aren't responsive to the needs of preservation professionals.
A subscription model helps us fund the development work to constantly improve our product so that the value you get from your software and sensors increases over time.
Conserv releases new software updates based on feedback we receive from museums, libraries, archives, and other collections.
Because we only focus on preservation we can be incredibly responsive to your feedback. We're not trying to build a tool that also works for science labs, restaurants, and manufacturing companies.
No Hassle Data Collection
In addition to everything above, we believe we have the only wireless product on the market that you turn it on and it just works.
Rachael Arenstein, a conservator who frequently reviews data loggers, told us "this is the only wireless data logger that I plugged in and it just works."
An average collection saves using old data loggers saves about 100 hours a year when switching to Conserv.
We've priced our subscription to be substantially less than the time and effort it takes to use old, manual data loggers that aren't built for preservation.
The Conserv Starter Kit
Our Conserv Starter Kit includes 2 sensors, a gateway, and a 3-year subscription to Conserv (a $1570 value) for a one-time cost of $500. This offer will only remain until July 1st 2022, when the Starter Kit will be changing. You can purchase a starter kit directly on our website.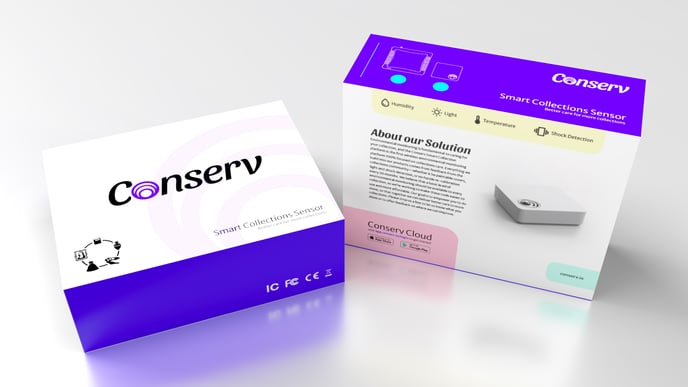 Other Pricing Considerations
We offer volume discounts starting at 50 sensors.
We run a monthly Starter Kit giveaway on Twitter.
Our sensor trade-in program allows you to trade-in your current loggers for up to 80% off your first year with Conserv. Your used data loggers are donated to small, underfunded collections to help them start a new monitoring program.